Our remit from the session was simple – to look together into the role of content marketing as the world re-opens to restaurants and hotels, what do we need to think about for 2021 and beyond and what lessons we learnt during what was an incredibly challenging year for the sector.
Author: Will Walsh, Wonderhatch CEO, Chair of our March 2021 Wonderchats round table.
It's good to be following up from our very first hospitality Wonderchats session.
One thing that shone through bright and clear from this session is that, despite a generally horrific year for the sector, our attendees – and I'm sure they reflect the majority of the industry – have proved they are incredibly resilient.
And the payback will come, we hope, in the 2nd half of this year as the general public are desperate for experiences, thirsty for adventures and hungry for the opportunity to enjoy life once again beyond their own home. The hotel sector may have to wait a little longer, but surely the UK with its successful vaccine rollout will become a target for foreign tourists as soon as they can travel. May 17th is looking ever more likely to be a key date in this regard as this goes to print.
With all that has happened, there's been a significant re-focus in marketing and comms in general, with engagement up and that genuine, authentic conversation with your customers being of paramount importance.
With the UK re-opening, marketers have the opportunity to build out that real trust now and for the future of their brands. We were massively encouraged by the determination, fortitude and intelligence shown in the session, the new learnings and the belief in the future. We wish you all the luck in the world with your efforts.
For Entrees.
Our hope was that by bringing together the right minds and personalities, with a desire to both listen and to share, we might support each other, give confidence and perhaps even uncover one or two new thoughts or ideas. Our view was that in having our group share ideas and experiences, it might help us all to create the right paths and solutions to succeed in the months ahead.
We also wanted the session to help us make new connections, re-connect with some old ones and close off 2020 with the retrospective it deserved, whilst getting us geared up to face the new challenges 2021 will bring.
Thanks to you, our amazing attendees, we feel we achieved the above. There were excellent contributions from each and every person in the room and we're thrilled with the positive feedback we have received. It was great to get our Hospitality Wonderchats series off to such a strong start – here's to the next one!
Please find here a distilled review of what was discussed. I've purposefully not gone into huge detail, but just the over-riding thoughts and comments that were shared. They are supposed to be open-ended, so as to allow you to dwell and consider further.
I hope it will help us all to become just a little better at what we do!
Starters –Why we need to be communicating.
Marketing is about helping us achieve our business goals. So, we asked what are those current goals?
To open up again! First and foremost….
To get back on our feet – to repair the balance sheet – and create a more efficient business for the future.
The pandemic has shone a light on how expensive a business is when there are no revenues.
Where can costs be cut throughout the business, to ensure it is economically viable from the start to launch or re-launch successfully?
Communication, communication, communication
Involving everyone inside and outside the business is key – get everyone in the lifeboat!
Keep people motivated. Togetherness and a shared identity.
Sticking to the plan.
New sites – there are some genuine and exciting new opportunities right now.
We cannot stand still – we must stay agile.
Re-designing our places with the future in mind – the future of queueing, outdoor space etc
Focusing more on the guest experience.
New launches are going ahead!
Main Course – What are the Circumstances?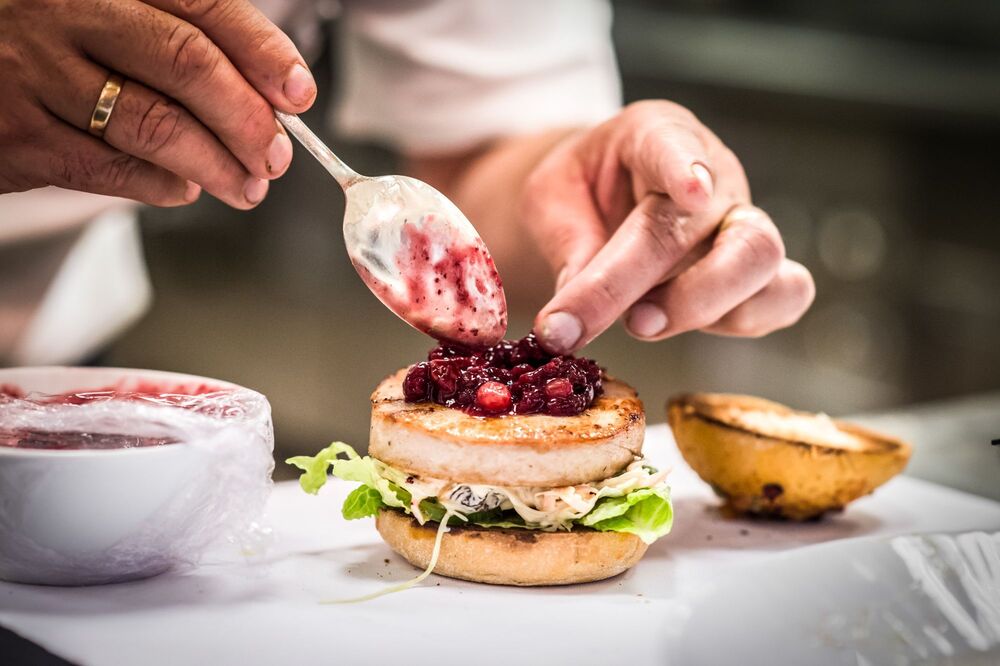 Work is changing. Some people have literally forgotten how to go to work!
Tourists are not coming back immediately. Business travel is down.
Staycations set to be massively up, although no staycation will fill a 200 room hotel in central London.
Will social distancing last for the long term? How are people going to socialise differently?
More community around our venues.
Queuing is out! Used to make you think that's a place I want to go, now it reminds you of 2020.
Understanding customer's safety – am I safe! Need to feel it.
Emotively charged! Duty of care.
Co-working spaces likely to be attractive and to bring in the flexi workers.
Dessert – Who are our Customers, and have they changed?
It's not a question of re-opening. We must consider we're opening up for the first time.
Take a new look at our customers. Take a new look at how we do things – a mind shift.
The haves – disposable income for workers is up from 6.8% to 29%!
People are socialising differently. All Bar One heralded a change in the 90s'. Are we seeing another major shift?
Trust is increasingly important, with both employees and patrons.
64% consumers are feeling more adventurous about their restaurant & hotel choices.
They will be bringing stronger expectations. They want authenticity. And they want sustainability too.
They also want information. They want to plan. They want certainty.
The pathway to decision making is now different. A need to be forensic in our touch points.
Connect guests to suppliers. They want to know what they are eating/experiencing, and where it has come from.
Share the JOY of the day. What are you offering?
Consumers are no longer willing to accept their values are not reflected by the places they're visiting.
Be mindful. People and planet.
Consumers are turning to brands to help them feel an emotional connectivity.
It's all too easy to lose customers.
Cheese and Coffee. How do we put all of this into place?
We're all on our phones more than ever. Everything is mobile.
Customers are more digitally savvy, across all generations!
A decade of evolution has happened in the space of just 1 year.
Social media is now the vital way to share what you are doing and why.
Digital first! Mobile first!
PR of course still primary mover.
Influencers – key to be authentic.
Short videos to inform, to explain the how and the why.
Notice your loyal customers and reach out to them. Local influencers better.
Social helps widening the audience. Share the love!
The booking system must flow. It must work. If I can't get through, you've lost me. Seamless.
Taking deposits for bookings may be new, but it's vital. Space is precious.
Ask what your customers would like to see? Involve them in the planning, in the safety.
Pay at table app a huge success. Customers making different choices as a result. They have more time – no time pressure and so they're more adventurous. Will that continue post Covid?
More convenient, more time, more adventure.
Brand Partnerships are a great way of gaining trust. Endorsements reflect trust and advocacy.
Competitions; Insta followings etc.
Use your suppliers, guests, local artists, collaborations.
Be generous to the right people.
Everything that we do has to go further. Re-purpose!
The rise of localism – the 15 minute city.
And execution must be absolutely right. Your team must know what you stand for, what you're trying to do, why you are trying to do it and how you are going to get there.
That's all folks!
Suffice to say that we learnt plenty ourselves during our session together and really appreciated all of your input. Thank you.
One final point that we can share with you from our experiences over these last few months.
We are seeing more and more conversations with our clients who are looking to communicate their own approaches to sustainability and what they are doing to reduce their carbon footprint, not just of their own business, but their suppliers' too. This is only going to become more important as customers become more and rightly demanding on the subject.
See you next time… let's please keep this a two-way conversation, we would love to hear from you about any suggestions for topics for our next sessions, do let us know!
All the best,
Will Walsh, CEO, Wonderhatch
Finally, thank you once again to those all of those who expressed their views and joined in our Wonderchat together. They were
Carys Kirkpatrick Content Marketing Manager, Corinthia Hotels Ltd
Charley Springall Hospitality Marketing Consultant, currently White Rabbit Projects, previously The Ivy Collection
Jordan Lonsdale Account Director, Travel & Hospitality, Wonderhatch, previously Virgin Atlantic
Mario San Jacinto Founder & CEO, Almiranta Capital Ltd, adviser to Hospitality & Resort sector
Marc Webbon Co-founder, Wonderhatch Ltd
Mel Marriott Owner, Darwin & Wallace
Rajesh Vohra Director, Sarova Hotels Ltd
Rica Rellon Senior Business Manager, Westminster Development Services, welcoming 9 restaurants to The OWO together with the UK's first Raffles hotel
Sarah Jackson Head of Marketing, Wahaca
Sophie Orbaum Director of Communications, Harts Group
Venetia Munro Director Creative Strategy, Sauce Communications