Is Your Sense Of Space Out Of Place?
Do you know how big a hotel is? It's not just a mark of how many rooms there are in the building. The Langham in London boasts 380 rooms, including an incredible penthouse, several spacious apartments and hundreds of guest rooms of various sizes. But a hotel is so much more than just rooms for beds.
Sticking with The Langham, factor in its incredible tea room, Palm Court. A London institution for over 150 years. Add to the space you're filling in your head by noting the signature restaurant by Michel Roux At The Landau. Now include the Artesian, the sister restaurant to the Landau, without forgetting the in-house pub in the jolly old Whitmore. 
Continuing to add to the growing building plan in your head, we have the Spa or, "the Urban Fitness centre" as The Langham has it. A 16-metre swimming pool giving you extra dimensions to accommodate. We have half a dozen function rooms of various sizes, we have kitchens, we have laundry facilities, offices, meticulously spread across 8 marvellous floors.
Space is not an issue when it comes to a hotel. There is an abundance of it even during the more crowded times of the year. This is exactly why the contrast we find ourselves at currently is so stark. Hotels are all but abandoned at the moment. But they need not be.
How Do You Get The Most Out Of A Space You Can't Use?
We know that some rooms are being filled. The gracious act of taking in those without a home off the streets, and offering them a haven has been prevalent throughout much of the last year, and rightly so. We know that our airport accommodation is being used sparingly to quarantine new arrivals into the country to prevent the spread of Covid-19 further, and rightly so. 
But, these are just hotel bedrooms we see being used. What of all the other spaces? What of the restaurants, the bars and spas, the function rooms? Is all their space being put to similarly good use if any at all? Unfortunately, due to a lot of the social restrictions that have been place, this hasn't been entirely possible
How do you make the most of a Spa when you can't open it to guests? What can you do with a restaurant when dining indoors is not an option at the moment? How do you get people to meet up for tea, for a drink, for business, when they can't sit in proximity to each other?
Hotels; Your New Workspace
To those who know the industry, the meetings and conferences world is pretty big for hotels. Well, massive actually. All those beautiful function rooms you see have got to be filled somehow and usually, it's the corporate world that provides the bookings and fills the seats.
Getting away for a conference has been all but impossible unless you've tried playing around with your background settings on Zoom or Teams. The workcation, as quickly as it started to look like it could become a real thing for the world of work, doesn't look likely to resume again any time soon. Those meeting rooms that you can find in just about every hotel worth its salt, painfully empty throughout much of the last year.
But, it isn't impossible to still have a conference at the moment. It isn't impossible to take some of your offices (if not the entirety of it) and set up shop in a hotel for a week or you know, however long your budget can afford. Our good friends at Marriott have been actively encouraging this recently.
Marriott is one of many hotel groups looking to make the most out of the limited opportunities available during the pandemic. To that end, they've been experimenting in the field of hybrid conferences and workspaces for the last year and pushing the limits of what's possible in the current, Covid controlled climate.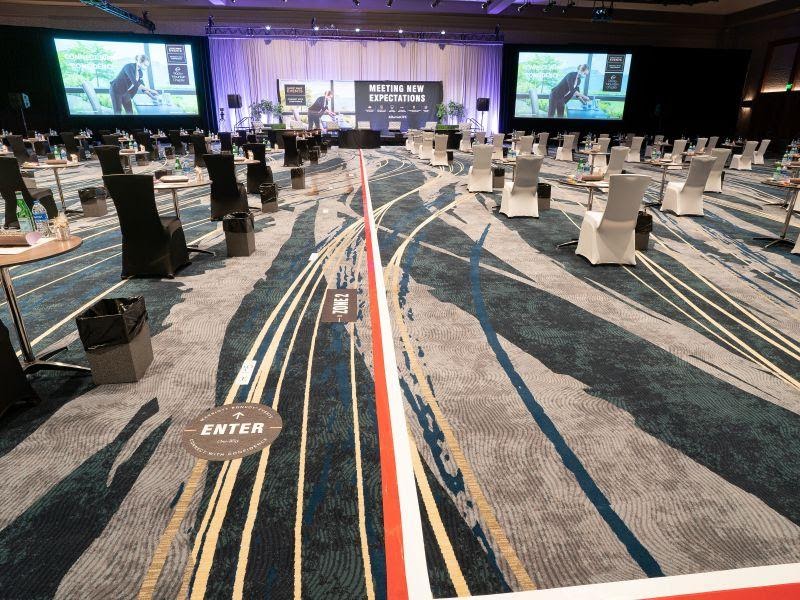 Now, this doesn't mean you can just up sticks and jet off to the Canary Islands, workplace in tow. Travel is still very much restricted, as it should be. But that doesn't mean you can't do this whilst you're at home. Say, in the big bright city which is our beloved London. 
Hotels Are Built To Offer Space. So Use It
Say you're a business who have given up your very expensive London office in the last year to cut costs. You love this. You love working from home, your staff love working from home, your partners love the savings on office costs. Everyones happy as they can be at the moment.  Who cares about what the future holds, for now, right?
Well, we know that eventually, we are all going to be allowed to start meeting up with each other again with a lot more freedom soon. The stay at home order issued by the government in the UK has now expired. From now on, if your employer wants you back in the office (if they still have one) you are obliged to return if asked to.
To that end, why not start thinking about getting your employees used to working with each other again, albeit in limited conditions. It doesn't matter whether or not you are going back to an office with a full staff of hundreds, or a small one with less than 20 people or, no one in the office at all. We all will have to get used to working around and with each other again, so why not start now?
Why not, get your teams to start meeting in a shared yet socially distanced workspace, at one of Marriott's most conveniently placed hotels in your postcode?  Why not set up a hybrid conference and show off your ingenuity to some of your industry peers and competitors? Get that returning to work ball rolling!
Remember The Rules And Set An Example
Yes, the idea of catered lunches in an amazing expanse whilst you go over quarterly projections, does sound amazing. The fact you could potentially be nipping into the gym or spa, which you have entirely to yourself during your lunch, might sound even better. Just about every hotel in the world would be happy to work with any business wanting to make the most of their available space at the moment. 
But, it does bear well to remember that this isn't an opportunity to break away from whatever restrictions are in place. Hotels will want to work with you, they will want your business and yes, they will probably bend over backwards to make sure you have a good time. Yet, don't think they will not be just as focused on abiding by the rules as they will be in making sure you get the most out of your hired space.
As you should! You have a responsibility to your staff and to making sure that they are compliant with the rules. Your staff are being given a privilege, despite what you're going to be doing is very much work orientated. It should not be lost on anyone that this isn't just an excuse to get a very gourmet lunch every day. 
How do we attract the best talent to work with us in business? How do we get more clients, how do we increase our revenue, work on better projects etc? Well, it doesn't hurt to show off what you're doing now and then.
Be a bit bold and out there. Invite your rivals to a conference you're hosting out of a hotel in Kensington. Let your current and future talent know they're going to be valued and pamper them with gourmet lunches. 
Book the best meeting rooms and workspaces out for each week to give them lift and install a wow factor in them every time they come in. Make a return to working together more of a memorable reunion before we're jumping on the tube and resuming the morning commute to the all-too-familiar office.
Now if you don't mind, we're off to film a live conference and slyly tuck into the buffet at the Langham this afternoon…